Happy New Year Everyone!
What do you think of our new look?
We thought we would start 2014 with a fresh
new

website design, new badges, new sketch layout...
Thanks so much Jen - you are the best!
Here is the new badge for you to take for your blog!
~~~~~~~~~~~~~~
Today, we are saying farewell
to a couple of design team members
Sparkle and Steph.
We have loved having Sparkle on the team the last 6 months,
however she has decided to step down. She will be sponsoring
Sketch Saturday a few times in 2014 which will be wonderful.
Steph has been a long time member of the design team, almost 2 years.
We have loved seeing her beautiful creations.
She too has decided to step down to focus on her new little boy.
Best wishes Sparkle and Steph!
Hoping 2014 is a wonderful year for you and your family!
~~~~~~~~~~~~~~
I'm so pleased to announce the addition of 2 designers to our team!
Carla
Laura
are

officially joining the Sketch Saturday team today!
~~~~~~~~~~~~~~
Now on to business...
We have a new sketch challenge today!
Vannessa

is hosting this week and has arranged a wonderful sponsor.
Sir Stampalot is a retail shop and online website that

specialises

in stamps, die cutting and paper-crafting goodies. We try to offer exceptional delivery times on your orders as well as keeping our stock fresh, new and exciting! Our dedicated team of card makers means we have a wonderful, inspirational online card gallery with many more cards still to upload! Sir Stampalot ships internationally as well as domestic so why not check us out if you haven't already?
The prize this week offered by Sir Stampalot is the AI Clear Stamp Set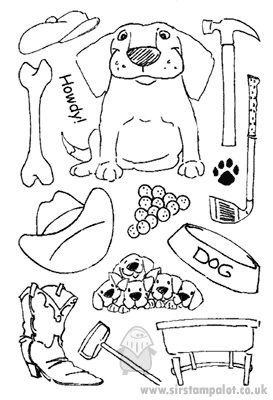 Vannessa

designed this fabulous sketch
for this week's challenge.
The Guest Designer for January is
Louise Roache
Louise is the Copic certified class teacher at Sir Stampalot's, who first introduced

Vannessa

to the world of

copics

and

colouring

! She is currently on the design team for Whimsy Stamps and the challenge blog, A Creative Romance. And here is her gorgeous card...
Vannessa
Using the Marvelous Mouthfuls Dog set.
Niki
Now it's your turn to get sketchy!